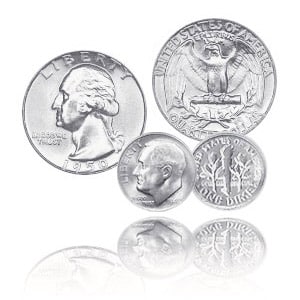 SELL JUNK SILVER COINS IN ORLANDO
If you are looking into selling silver or gold coins, the first step to consider is whether or not your coins have numismatic value. In face, coins with numismatic value are those that are worth more than their precious metal content. SELL JUNK SILVER COINS IN ORLANDO.Numismatic value is the price you can expect to receive through the sale of a circulated, un-circulated or proof coin. This value is determined primarily by the scarcity of the coin, its condition, supply, and demand. 
The value of rare coins is determined by four criteria:
Rarity
Quality
Grade
Popularity
Other silver coins are commonly referred to as "junk silver." All U.S. dimes, quarters, half dollars and silver dollars minted 1964 and earlier contain 90% silver and are known as "junk" silver coins. These coins have no value beyond their silver content. Moreover, In the United States, most silver coins minted before 1964 have a fair amount of silver content and have value based on this precious metal content.
Here are a few examples of the most common junk silver coins:
(1942-1945) Silver War Nickel
(1916-1945) Mercury Dime
(1946-1964) Roosevelt Dime
(1932-1964) Washington Quarter
(1916-1947) Liberty Half Dollar
(1948-1963) Franklin Half Dollar
(1964) Kennedy Half Dollar
(1965-1970) Kennedy Half Dollar
(1878-1921) Morgan Dollar
(1921-1935) Peace Dollar
(1971-1976) Eisenhower Dollar
(1920-1967) Canadian Dime
(1920-1967) Canadian Quarter
(1920-1967) Canadian Half Dollar
(1935-1967) Canadian Dollar
Learn More https://winterparkcash.com/we-buy
https://winterparkcash.com/wp-content/uploads/what-we-buy_silver-coins_300x300.jpg
300
300
Daniel
https://winterparkcash.com/wp-content/uploads/oeb-logo.png
Daniel
2017-05-16 02:55:37
2017-08-20 21:37:16
SELL JUNK SILVER COINS IN ORLANDO